One of my favorite facial products is a coconut & honey face mask. My not so favorite part of it is the cost; at about $40 for less than 1.5 ounces, it can break the bank. So, off to formulate this hydrating treat myself. 
The combination of coconut oil and honey is a super combo as they both contain antioxidants, anti-inflammatory, anti-microbial, and hydrating components that benefit the skin.   For this DIY production you will need just a few things: coconut oil (Virgin coconut oil is recommended--more on this in a minute), honey, beeswax (If you don't have any beeswax on hand, don't sweat it; you can leave this out), a small whisk, and microwave safe containers.   
Why virgin coconut oil (VCO)? Well, regular coconut oil is pressed from the dried coconut kernel while VCO is from the fresh meat of the coconut, and it is unrefined. VCO has seven times the amount of polyphenols (superb antioxidants that fight oxidative stress and may prevent premature aging). VCO also has a genuine coconut fragrance. The main fatty acids in VCO are 47.5% lauric acid, 18.1% mystic acid, 5-10% oleic acid, and 8.8 % palmitic acid. Lauric acid is the main fatty acid here. Fun fact, lauric acid has demonstrated antibacterial and anti-inflammatory activity against P. acnes, which is the bacterium proposed to contribute to inflammatory acne. Although, overall, VCO is moderately comedogenic (can clog pores). So, this mask is for me. My teenagers prefer the rose clay facial mask--stay tuned for that in the future. As a side note, fractionated coconut oil is different from VCO and regular coconut oil as the long-chain fatty acids have been removed, including most of the lauric acid, so that it remains in a liquid state.  
Honey is not just a sweet treat; it is a powerhouse of antioxidants and also antimicrobial activity. Honey is a humectant; it draws moisture to skin. There have been some studies showing that Manuka honey can eradicate biofilms (slimy layer of bacteria that adheres to surfaces) and accelerate wound healing. I didn't use Manuka honey in this recipe, but you could substitute some of it in. Manuka honey comes with a higher price tag. If you use it, drop me a line to let me know how it went.   
Beeswax is the last ingredient. I wasn't going to add it to the product as many people don't have beeswax readily on-hand, but it made a smoother and more homogeneous product. It was a texture thing for me; however, you will still get the benefits of the VCO and honey without the beeswax.   
2 Tablespoons of honey
2 ½ Tablespoons of Virgin Coconut oil
½ teaspoon of beeswax.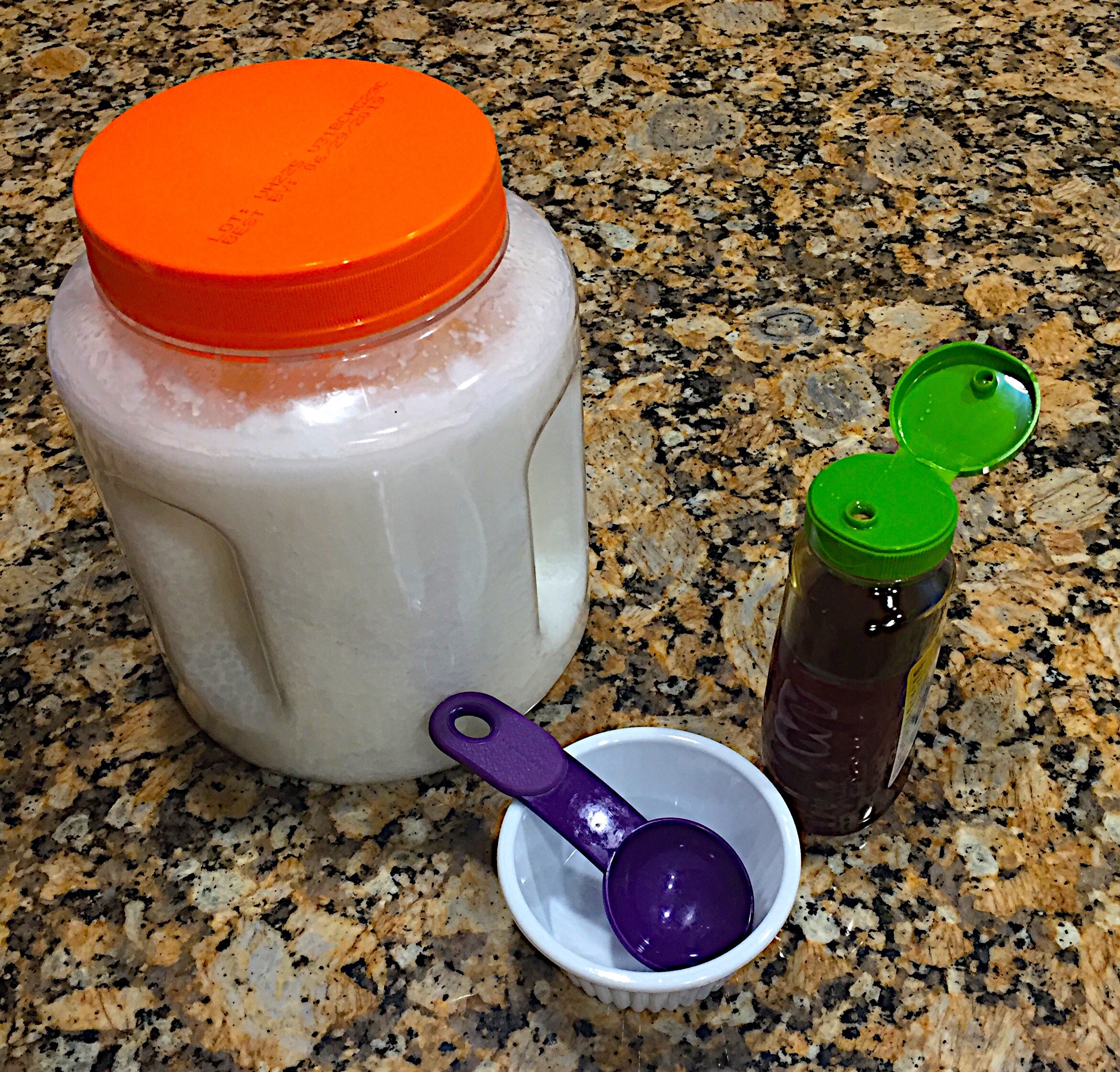 Step 1: Measure honey into a clean container. 
Step 2: Melt the 2 ½ Tablespoons of VCO in the microwave, if needed (If it is hot outside, it may already be melted) start with 10-20 seconds intervals.   
Step 3: Combine VCO with honey and mix with small whisk until combined. (It may be grainy if you are not adding beeswax.)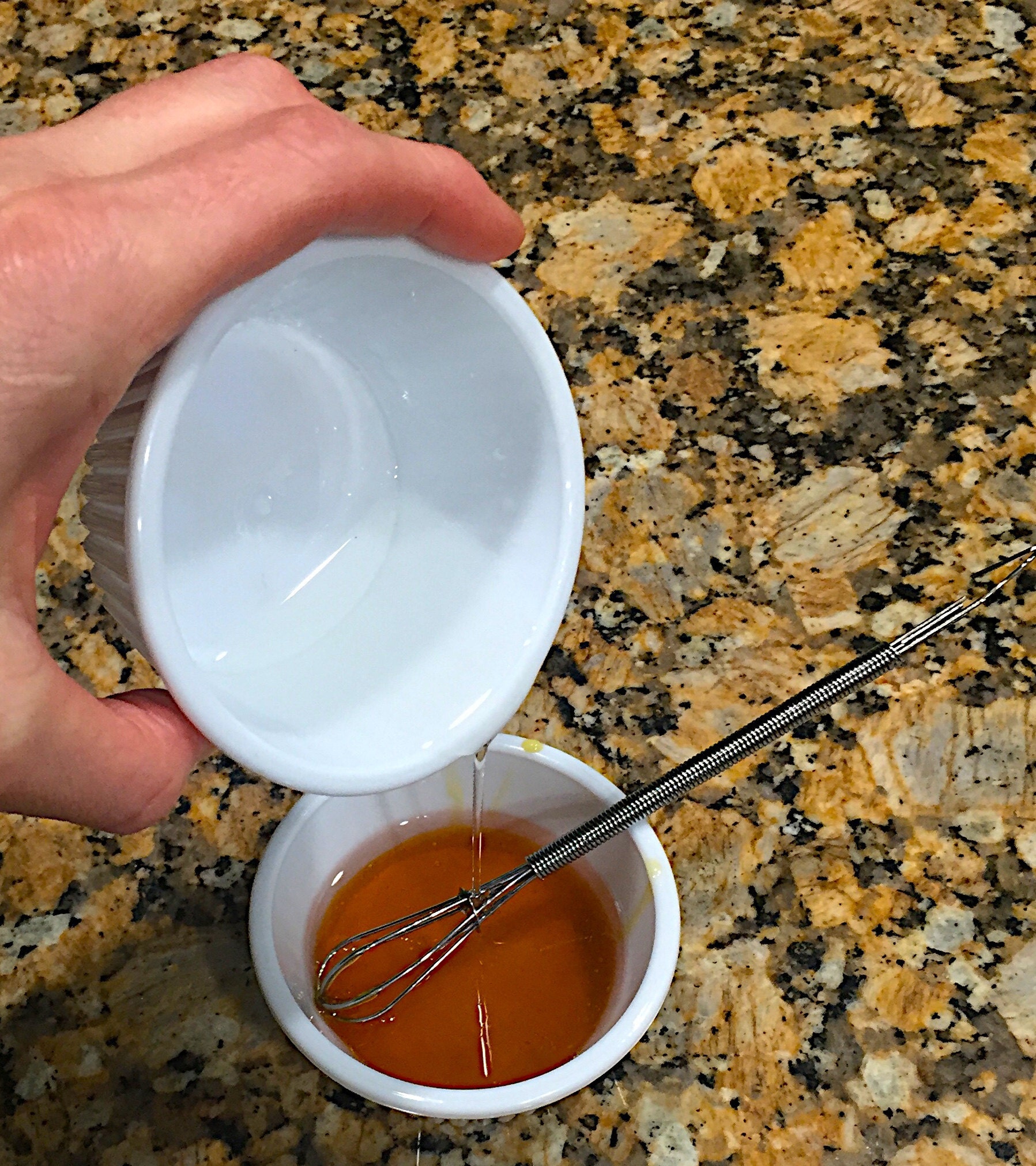 Step 4: Melt beeswax in a double boiler, preferably. I was in a hurry and used a microwave on high for 3 minutes. Beeswax melts slow.   
Step 5: Mix beeswax into honey and VCO. Place in refrigerator to set up. I checked on mine in 5 minutes and had to re-whisk as the coconut oil had set up on top. Leave in refrigerator for 5-10 more minutes, whisking until combined.    
VCO has a shelf life of 18-24 months and honey is indefinite, so this should last you a long time.   
For application, first wash face with mild cleanser. We have two facial soaps available that do a wonderful job of gently cleansing the skin: Dead Sea Mud Facial Soap & Oatmeal & Milk Facial Soap.
If you have time, place a warm washcloth onto the face to open up the pores. Next, apply a quarter size amount to face and relax for about 10-15 minutes. Remove product with warm wet washcloth, and enjoy your glowing skin.    
As a side benefit, you could also put this on your toast ;)  It tastes yummy.
I estimated that this cost me less than $2 to make--that's $37 in savings, and more with shipping.    
We love creating natural and handmade products and we want you to love them too. Check out our products at www.latheringlotus.com  
 Live at ease, 
Jamie & Andra